Whether you like an air conditioned sight seeing bus tour or a more adventurous 4x4 guided off-road tour, horseback riding, ATVs, these are just some of the ways available to explore the island of Aruba!
Discover the true nature of love, on our peaceful and relaxing island bliss; treasures made to perfection moments, an unforgettable get a way. Getting married, honeymooning or even both, Aruba may be your fabulous choice

Every year, Aruba receives hundreds of inquiries about getting married on the island. Whether you choose to tie the knot on the beach, during a private sunset cruise, or at a lush tropical garden, getting married in Aruba is a wonderful way to add exotic romance to your wedding day.
There are many properties on the island with complete banquet facilities for your reception, and many of Aruba's fine restaurants offer elegant private rooms for special occasions. .
Honeymooning couples have always received the red carpet treatment on Aruba. The island, long thought of as a couples' paradise for its idyllic scenery and some of the finest beaches in the Caribbean are just a few of the reasons why Aruba is hot with honeymooners.

for more information, visit:
http://www.visitaruba.com/experience-aruba/weddings-and-honeymoons/
Aruba's nightlife caters for a variety of tastes. There are several charming and exciting nightspots with dancing and entertainment as well as lively action-filled casinos whose atmosphere is charged with excitement and expectation.

Most hotels have their own casinos and special entertainment activities such as tropical nights, beach barbecues and cocktail parties to mention a few. Hotels and nightclubs feature water ballet, international entertainers, fashion shows, local dance groups, limbo and fire dances, steel bands, discos and the pulsating beat of local bands. For casinos be it in blackjack, poker, craps, roulette, baccarat, Aruba's casinos offer it all.
for more information, visit:
http://www.visitaruba.com/experience-aruba/aruba-casinos-and-nightlife/
Shopping in Aruba
Shop 'til you drop! Aruba is the perfect shopping island.
Not only can you find the best deals here, but you also have a variety of shopping districts to browse and compare prices.
Shopping in Aruba is most known for its various selections Shoppers often visit Aruba for its shops devoted to jewelry, table linens, perfumes, leather goods, designer fashions, electronics, locally made handicrafts, Cuban cigars, Dutch Delft, Dutch Cheeses, and many more superior and favorably priced goods.
Aruba Shopping in Hotels
Almost every hotel in Aruba—both low rise and high rise—have gift shops and specialty stores of their own. What you don't find in your own hotel you will most likely find next door or down the road at another resort.
Not only do these shops contain all the Aruba shopping essentials like beach towels, sun block, and aloe vera, but you can also buy your souvenirs and gifts for family and friends back home. Aruba has many fine artists and craftsmen who make a number of different collectibles.
For those who prefer to shop outside of their hotel, but still close by, there are a assortment of store branches in nearby shopping arcades and The Alhambra Shopping Bazaar located in the vicinity of the low-rise hotels.
Oranjestad, Aruba Shopping
If you are serious about shopping in Aruba, then take the trip to downtown Oranjestad. As the capital of Aruba, shopping in Oranjestad is top notch.
If you arrive by cruise ship, you will have no problem finding the shopping district as L.G. Smith Boulevard runs right through it. The shopping area is also only a few minutes walk from the sea port. And if you are staying in a hotel further from downtown, then you can make your way there by taxi, bus or rental car. There is suitable parking, but do expect a little traffic as Oranjestad does get busy.
Shopping in Oranjestad, Aruba is often turned into a grand event. Occasionally the main street is made car-free, and on those days more than others, it's great time to stroll and check out the many clothing and jewelry stores.
If you don't find what you are looking for at your hotel or in Oranjestad, there are other shopping areas throughout Aruba. Many stores are located on Caya G.F. (Betico) Croes or in nearby streets. Others can be found in the Renaissance Mall, Renaissance Market Place, the Royal Plaza, Port of Call Market Place, Aventura Mall, the Holland Aruba Mall, the Sun Plaza and the Atrium Mall.
Aruba traveling tip: Some stores close between noon and 2pm, and many shops and malls close by 6pm. If you plan to make a special trip, call ahead to be sure the stores you want to visit are open

for more information, visit:
http://www.visitaruba.com/experience-aruba/shopping/
Aruba Beaches
The beaches of Aruba are widely considered to be among the cleanest, widest, and most spectacular in the Caribbean region. An Aruba beach typically consists of powder-fine, white-sand, perfect for soaking up the Caribbean sun. All you need is plenty of suntan lotion and a refreshing cocktail, both of which are not hard to come by on Aruba!
Famous Aruba beaches include Eagle Beach which has been singled out as the number one Caribbean beach in a USA Today survey of travel writers, travel agents and frequent travelers; and Palm Beach, set against a backdrop of Aruba's leading resorts, was voted best family-friendly beach in the world by The Travel Channel and by Condé Nast Traveler as one of the best beaches in the world.
Beaches in Aruba are easily accessible. Several access and parking renovations are underway for favorite spots such as Arashi Beach on northwestern part of the island and Baby Beach on the southeastern side.
Below is a list of Aruba's beaches, you can extend the list by changing the 'items per page' setting or just browsing through the pages by clicking a page number or 'Next'.
---
General Facts
Aruba
Located about 12 degrees north of the equator, approximately 29km (18 miles) off the Paraguana peninsula of Venezuela. The island, one of the Lesser Antilles islands, is about 30 km (19 miles) long and about 8 km (5 miles) wide with an area of 193 sq km (75 sq miles) and a population of some 89,000.
Geography of Aruba
The island of Aruba is part of the West Indies in the Caribbean Sea, and lies about 12 degrees north of the equator, approximately 29km (18 miles) off the Paraguaná Peninsula of Venezuela. One of the Lesser Antilles islands, Aruba is about 30 km (19 miles) long and about 8 km (5 miles) wide with an area of 193 sq km (75 sq miles). The island's population is about 112,000. The capital is Oranjestad, named after the Dutch Royal House of Orange.
Antilles is the term used for the whole of the West Indies except the Bahama Islands. Cuba, Jamaica, Haiti, the Dominican Republic, and Puerto Rico form the Greater Antilles. The Lesser Antilles, extending in an arc from Puerto Rico to the northeastern coast of South America, include the Virgin Islands, Windward Islands, Leeward Islands, southern group of the Netherlands Antilles (including Aruba), and, usually, Barbados and Trinidad and Tobago.
The Netherlands Antilles are an integral part of the Netherlands, comprising two island groups of three islands each, the Netherlands Leeward Islands and the Netherlands Windward islands, in the Caribbean Sea.
The former group, consisting of Curaçao, Bonaire, and until 1986 Aruba, is situated northwest of Caracas, Venezuela. The area of the Netherlands Leeward Islands is 925 sq km (357 sq mi).
The Netherlands Windward Islands consist of the southern half of Saint Martin (Sint Maarten) and all of Saint Eustatius and Saba, covering a total area of about 67 sq km (about 26 sq miles). These islands are situated at the northern end of the Lesser Antilles chain, to the southeast of Puerto Rico.
The Caribbean Sea is partially enclosed on the north and east by the islands of the West Indies, and bounded on the south by South America and Panama, and on the west by Central America. Its name is derived from the Carib people, who inhabited the area when Spanish explorers arrived there in the 1400s.
Practically the entire Caribbean Basin is more than 1830 m (6000 ft) deep. Large areas of the sea exceed 3660 m (12,000 ft) in depth; the greatest depth measured thus far is Cayman Trench (7535 m/24,720 ft) between Jamaica and Cayman Islands. Navigation is open and clear, making the Caribbean a major trade route for Latin American countries.
Weather and Climate
Aruba is situated 12 degrees 30' north of the equator. The weather is tropical but not extreme, with a median and practically constant temperature of 82 degrees Fahrenheit (28 degrees Celsius). Rainfall averages about eighteen inches a year, with October, November, December and January accounting for most of it. Even then rains tend to be erratic and in short bursts. It is important to mention that Aruba lies south of the general hurricane paths and usually only experiences fringe effects of nearby tropical weather. Nonetheless it is not unknown that tropical systems form close by and do have their effects on the ABC islands (Aruba, Bonaire, Curacao).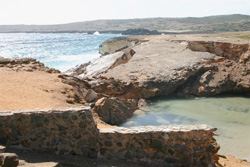 For the most part, Aruba's blue-green sea is calm and clear on the island's popular beaches, with visibility in some areas reaching depths of over a hundred feet. Exception to this is the sea that beats against the rugged northeast coast and tends to be wild with high, thundering waves resulting in jagged rock formations and shapes. One such shape was the Natural Bridge (the Caribbean's highest) carved out of coral cliffs, which collapsed on Sep 2nd, 2005.
Trade winds cool the island, making lying in the sun on one of the many beaches much more tolerable although care should be taken since this is deceptive - the sun is strong, in particular between 11am and 2:30pm and the use of sunscreens is strongly recommended especially for fairer-skinned people
History
As far as can be concluded from historical records, the first European to set foot on Aruba was Alonso de Ojeda. This Spanish explorer landed on the Island in 1499. One of his first observations was that the remains he found belonging to the first settlers were considered to be larger than the average European of that day. He remarked that he had come to "an Island of giants".
Popular belief links Aruba's name with the Spanish phrase "oro huba" which means "there was gold". In fact the Spanish did not find any gold, and regarded Aruba as "valueless". Another possibility is that Aruba's name comes from the Indian word "oruba" which means "well placed ". Yet another possible derivation of the name is from two Carib Indian words "ora" meaning "shell", and "oubao" meaning "island".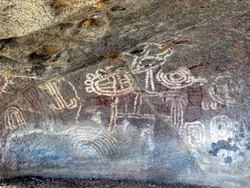 Long before the Spanish arrived, Caquetio Indians of the Arawak tribe settled on the Paraguana peninsula in Venezuela. Threatened by the Carib Indians who were extremely ferocious, they came to the Island of Aruba perhaps as long as 4000 years ago. Today, many names of towns and other geographical areas such as Turibana, Guadirikiri, Camacuri, Andicuri and Bushiri, originate from the earliest Indian chiefs and warrior settlers.
With the arrival of the Spanish many of the Indian population were enslaved and relocated to Hispañola to work in mines. Despite this their fate was merciful when compared to Indian populations on other Caribbean Islands who were exterminated. In fact, the Island was spared the usual horrors of Spanish colonial policies.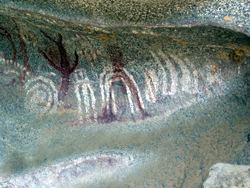 By 1642, the 80-year war between Spain and Holland was drawing to a close, and it was in this year that the Dutch took possession of Aruba. Dutch military personnel were sent to maintain Aruba, but contrary to their living conditions under their previous masters, the Indians were allowed to remain free. There was a short period between 1805 and 1816 when the British assumed control. However, the Dutch returned in 1816.
In 1824 gold was discovered and was mined extensively, becoming a major export along with phosphate, divi-divi pods for use in leather tanning and aloe. At one time Aruba satisfied a considerable proportion of world demand for this plant's gel - used for pharmaceutical purposes and well-known for its capacity to alleviate sunburn pain.
Eventually gold supplies dwindled and the once-booming mining industry became unprofitable resulting in all operations ceasing in 1916. It was ultimately black gold that brought real prosperity.
In 1928 Royal Dutch Shell built the Eagle oil refinery and this was immediately followed by a refinery built by Lago Oil and Transport Company Ltd. in San Nicolas. Royal Dutch Shell ceased its operations in 1953, after serving as a depot for both refineries during the second world war. In 1932, the Standard Oil Company of New Jersey (Esso, now known as Exxon) took over the Lago refinery. The refinery employed well over 8,000 people, 16% of Aruba's population, and up until the 70's was one of the largest in the world.
The Refinery at San Nicolas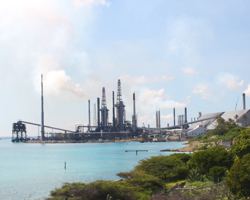 Within three decades Aruba became an island with probably the highest standard of living in the West Indies. The illiteracy rate, for example, is exceptionally low. Today tourism has become the major factor in the island's economy with many major hotel chains setting up in Aruba. In just a few short years, Aruba has become one of the most popular vacation spots in the Caribbean, with visitor figures approaching a million annually.
Explanation on some name places in Aruba
Oranjestad
Named after "Huis van Oranje" (Orange House), this was the name of the Royal family during the Dutch colonization. While this is the official name, the town people still call the capital of Aruba "Playa". This small town got her name Oranjestad in 1824 when the word got out that gold was discovered in Aruba, a big party was held in honor of the governor Cantzlaar visit.
Rooi Frances, Franse Pas, Frenchmen's Pass
Around 1620 a war took place between a small group of Indians and the Frenchmen. The Indians wanted to flee seeing only defeat and they hid in a cave. The Frenchmen found their hiding place, but it was difficult for the Frenchmen to get into the cave. The Frenchmen got an idea how to make them come out, so they started a fire at the entrance filling the cave with smoke, killing the Indians inside. Nobody knows if this story is true, but this is how the place got its name.
Macuarima
The name came from a legend. The story tells of an Indian girl called Macuarima who lived at the edge of Santa Cruz. Macuarima was loved by everyone in town, she did her utmost to give a hand when needed, she was compassionate and she was very beautiful. When she met Pati Blanco an Indian boy, she instantly fell in love with him. He took her away on a boat to Venezuela. The Aruban writer Ernesto Rosenstand wrote the whole story in his book "Macuarima".
Grot di Lourdes
On February 11, 1958 there was much celebration related to the appearance of Virgin Mary in Lourdes, France. A San Nicolas preacher named Erkamp came up with the idea to place a statue of the Virgin Mary in the cave at Seroe Preto. A year later, Monsieur Holterman blessed the statue. Since then it is a favorite place to pray.
Alto Vista
The name speaks for itself alto means high and vista is view. Therefore, it is high view.
Marawiel
In the time of the gold discovery, the workers used donkeys to transport the gold and later a steam tractor. During a rainy day, the tractor got stuck in the mud and the men had to tie the wheels with a rope to get it out and running again. This was the talk of the day so the place got the name Marawiel, which translates in English to "tie the wheel".
Boton
Boton translates in English to "button". At this place and especially on the nearby hill you could find thousands of small round shells with a small opening in the center. The size of these shells are not bigger then a 25-cent Aruban coin. People started to refer to them as "boton". Children used to bring a lot of them home since at the time it was trendy to use them to make a collar.
Paardenbaai
Translates in English to "Horses Bay". At the end of the 18th century, horse merchants decided to live near the bay at Oranjestad, next to the horse-shipping place Aruba's port. This place got its name Paardenbaai-haven.
Mon Plaisir
Translates in English My Pleasure. In the 18th century, Aruba was one of the largest producers of aloe. And Mon Plaisir was the largest land growing the aloe plants.
Seroe Colorado
Seroe Colorado translates to "colorful hill". The name of the place refers to the 30 meters high of pure limestone at the endpoint in the east of Aruba. The hill got its name due to the brown yellowish color of the limestone.
Savaneta
It is said that Savaneta name became during the Spanish colonization in 1840. Savaneta means Sabana chikito (small savannah).
Vader Piet
Vader Piet is at the northeast coast of Aruba. In 1829 a man named Pieter Lampe lived there and he was a farmer and foreman. He was called Vader Piet because he was a beloved man and treated everyone with kindness. In an incident at the time, a slave killed Vader Piet and since then the place was named after him.
San Nicolas
San Nicolas was named after a man who owned of a big piece of land there. This man was named Nicolaas van der Biest. In the early days owners of big piece of land are addressed by "Shon" with the first name after. So the people used to call him Shon Nicolaas. That later turned into San Nicolas. Some stories indicate that the Spanish influence had something to do with this.
Willem III Toren
A fort that was also the first lighthouse built in 1869, and used an oil lamp. This tower also has the first public bell in Oranjestad. The lamp was lit for the first time on King Willem III's birthday celebration, hence the name.
Juan Irausquin Boulevard
A part of the L. G. Smith BLVD was changed in 4 July 1992 to Juan Irausquin Boulevard.  This part starts from Tamarijn Beach Hotel to Holiday Inn Aruba. This is in honor of the person responsible for the infrastructure for the tourism industry in this area. In front of the post office, there is a statue of him.
California Light house
A ship with the name California sank nearby very long time ago. The lighthouse is also called Faro Blanco of Hudishibana.
Tanki Flip
There are two stories that explain the name: 1. A man called Flip Kelly was rejected by his girlfriend. He became suicidal and killed himself by falling in a tank nearby. 2. Flip Kelly was riding his horse one day and suddenly the horse tripped on the mud and went head on in the water drowning with Flip who was unable to untangle himself.
Tanki Leendert
A family with the last name Leendert were owners of the land.
Simeon Antonio
Named in after the son of Djon Maduro and Anna Maria Geerman in 1835
San Barbola
Land named after the House of aloe plantation. Dedicated to a saint.
Kudawecha
Kudi di Wecha is the name of an Indian who was a very curious witch doctor. Originally, the Indian name was Wecha and he had a big kudi. (a big hollowed out stone)Â  He used it as a receptacle for rainwater.
Paradera
The story tells of the Spanish asking the Indians where the gold is. The Indians pointing in that direction telling "Aya para dera" meaning "we bury over there" (It can be a mispronunciation of the word "oro" with "morto"). The Spanish were very disappointed to find only bones instead.
Piedra Plat
Like Boton around here, you could find several sizes of green colored flat stones. Piedra means stone and plat means flat.
Commandeursbaai
By the 18th century the Commander's (the leading man) governing board seat was situated here along the bay.
Rooi Tamboe
Parties were held in the rooi among slaves with music and some fun. Rooi is a dried out riverbed. Tamboe is a type of snare drum instrument made from pig skin.
Babijn
Babijn is named after the Frenchman Rene Babin, who lived in Aruba around 1779.
Rodgers Beach
Named after Captain Robert Rodgers, who chose the harbour of San Nicolaas for the importation of crude oil.
Washington
As many other small towns names came from the house of plantation like San Barbola, Mon Plaisir, Modanza, Montserat and Planterust. The same was for Washington's Plantation. In 1914 Nadi Henriquez built a new house and gave it the name House of Washington.
All content on this page was taken from the best Aruba tourist information guide on the web- VISITARUBA.COM